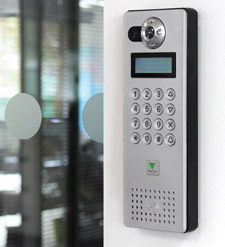 Intercom & Door Entry
Intercom & Door entry installation specialists.
Installations specific to your needs.
Intercom & Door Entry provide a cost effective way to proactively manage a site / premises using audio intercom and video intercom systems. Effective for longer distances such as a remote gate. Our user friendly systems allow for simple push button controls
Welcome you guests and communicate with visitors

Integrate Video Intercoms with CCTV cameras

 Highly efficient in flats and buildings that are zoned / separated into areas

 Can be integrated with existing phone lines (Internal and External numbers PABX)

 Wired Intercom Systems

 Wireless Intercom Available

 Wireless & GSM (SIM Card) available

 Audio Door Entry

 Video Door Entry

 Vandal proof hardware keeps your equipment looks and operational

 Telephone door entry

 Gate entry systems / Gate intercom

 Card entry / Keypad Entry / Fob Entry

 Maintenance, Servicing & Repairs available
Some of the Sectors we work in are Office Intercom , Commercial Intercom , Industrial Intercom , Schools Intercom , Hospitals Intercom , Hotel Intercom , Retail Intercom , Residential Intercom , Apartment Intercom and Gate Intercom .
Wireless Intercom
Wireless Intercoms can communicate up to 300m . This is dependant on the environment that they are situated – vegetation, glass, brick & steel within the transmission line. We would always recommend a shorter distance to be sure of consistency and quality within use.
Digital Wireless Intercoms using the DECT approved standard (Digitally Enhanced Cordless Telecommunication) multiple handsets can be used communicating from a master base station up to 100m again dependant of the environment the are situated. Allowing you to take the handset into the garden & have free movement around your premises. This developed technology can be used as your land line phone as well as an intercom handset.  
Basic Advantages of a Digital intercom :
Reduces interference or static on the line

Greater range

Clearer sound quality

Dual function as Intercom & Land line handset
GSM Intercom
GSM Intercoms use a SIM cards as you would find in a mobile phone. This powerful technology enables minimal disruption to the building and can be programmed to call land line and mobile numbers. Enabling you to answer callers and grant access from your mobile phone.
GSM communication has no limitation on the range that they can communicate !
Audio Intercom
Audio Intercoms are cost effective solution for communicating from a call panel to a handset. Allowing 2 way conversation. Doors / gates can be operated with simply push button on the handsets.
Video Intercom
Video Intercoms offer video and audio to communicate and identify guests or visitors. With high quality vibrant colour monitors, you can clearly see who is calling. Doors / gates can be operated with simply push button on the handsets. View CCTV cameras from your handset or view the entrance panel from your CCTV monitor.
Telephone Intercom
A telephone Interface uses your existing telephone line to communicate between the entry panel & the handset. This can be very useful within flats intercom systems or where a remote gate is used.  Doors / gates can be operated with simply push button on the handsets.
Please feel free to take a look at some useful links.
Midland Electric Gates –  commercial and residential swing and sliding gates and barriers & CMS Midlands – Entrance and garage doors