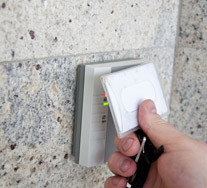 Access Control
Access control installer of keypads, proximity reader, proximity fobs and token.
Standalone Access Control
Standalone Access Control offers a simple & affordable way to control security at your premises. Lost or unreturned tokens can be barred saving time and money on new keys and replacing locks. Standalone equipment can be keypad or proximity, with the intelligence of the controller stored within the access units memory make standalone access control more affordable when used with few users and doors controlled.
Networked Access Control
Computer based access control is easy to use and program from your desktop PC or laptop. Networked access control allow for greater programming and functions. Such as:
Record Time & Attendance
Timed variable access which can be different for every user
Zones to segregate users from having free passage around all areas to limited areas.
Networked systems are generally cheaper to keep operating when there are larger numbers of users. Visitors can be given tokens that expire daily or at a specified time.
Locks
We offer a range of different lock types to suit every application. We offer fail safe and fail secure locks for Interior & External locking:
Maglock / Electromagnetic Lock / Magnetic Lock – offer a fail safe electronic lock

Strike Locks, provide a neat & clean solution to electronic locking

Shear Lock / Magnetic Shear Lock – Provides extra security by inserting pins into the lock housing creating the shear point.

Electric Bolt Lock / Electric Dead Bolt- commonly used locks making them compatible with many applications
Access Credentials
We offer a range of different credentials – tokens, cards, keypads & Intercoms to give control to movements within your building to authorised or unauthorised persons / staff:
 Proximity Readers:
Access Keyfobs / Tokens

Access Keycards

Access Watchprox
Keypads:
Individual codes available for each user

A cost effective management system
Biometrics – high security with a personal touch:
Fingerprint

Retina scan

Handscanning
Keyless & Handsfree (using wireless technology, having a valid token about your person provides access. Very Helpful for disabled users and DDA compliance) When used internally it allows authorised people to move freely through doors when carry boxes or other objects requiring handsfree.
Please feel free to take a look at some useful links.
Midland Electric Gates –  commercial and residential swing and sliding gates and barriers & CMS Midlands – Entrance and garage doors