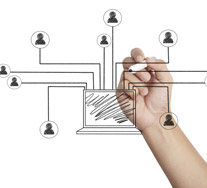 Building Management
Building management systems, which allow complete integration through strategic planning between, access, power, lighting, gates, intercoms, CCTV and fire alarms.
Advanced Access Features
At Midland Access Control we aim to provide quality service, we aim to achieve that by using appropriately designed systems using features to their full potential. Access Control can just control door gates and barriers but a well installed system will provide integration to provide time and money saving services.
Multiple Sites can be controlled from one area.  

Fire alarms – integration including roll call and muster reports / register in emergency. System can be set so all fire safety regulations are met, ensuring safe egress from the building to fire points.

Intruder Alarm

CCTV integration – you can view your CCTV from you PC workstation or from a remote device

Gate Automation

Personnel monitoring

Energy Saving – our access control systems can be used to control lighting or other power sources. This can also be utilized as a safety feature e.g. within classrooms with machinery

Safety controls – allowing trained people to have authorised access to machinery and areas that could be dangerous to unauthorised or untrained persons, helping improved work safety

Printed ID Cards – using a basic card printer cards can be customised to work as id for use with physical security guards or for card Identification

Zones / Zoning of areas

Site Graphics make interpretation easy

Time sheet and attendance Integrated into the functions of your building

Email and SMS text alerts are available which combined with some other features can provide and powerful security and time saving tool, which

 can be used to email a report for of employees that have arrived after a specified time

Email personnel or accounts weekly time and attendance reports

SMS can be valuable for security alerts on your premises

Remote site control – Using a PC you can view maintain and control your site using an Internet connection

Mobile phone App's can be used as credential

Access systems can help DDA (Disability Discrimination Act) compliance though the using light or sound to maintain safe working for site visitors

Hands free using Radio Frequency (RF) over encrypted signal to control doors or gate from longer ranges. Hands free can be convenient for people carry goods within the building allowing internal doors where security requirement may be lower (as credential has been checked from an external reader) to stay locked until the person with a hands free token get close enough to open the door

Data base back up allows for all your access control data collated will be kept

Control power to Lighting systems

Control power to computers in Offices and Classrooms

Control Access to machinery for trained and untrained persons

Hands Free & Keyless systems can provide invaluable for easy movements around a building – Particularly for those carry boxes / Large items or heavy items

Gate integration, Gate Intercom, Intercoms & Door Entry

CCTV integration to your computer or Internet phone

Fire Alarm integration and roll call facilities (Showing who is on site and where they are) Muster readers can confirm peoples safe exit of a building

Intruder Alarm Integration – no need for individual switching of separate alarms

Time Sheet timeline & Attendance Reports can be emailed or SMS text message send to location of your choice

Areas & Site Graphics proves an easy visual display of how your site is managed

Wireless Systems provide less cabling and disruption on installation
Please feel free to take a look at some useful links.
Midland Electric Gates –  commercial and residential swing and sliding gates and barriers & CMS Midlands – Entrance and garage doors